The founding of our family-run company 200 years ago, marked the beginning of a success story. From the very beginning we have been involved in the production of "Made in Germany" fabric. For allmost 100 years, we have specialised in fabric production for the safety of workers and their comfort at work.
At our location in Germany, we produce fabrics that use the natural advantages of cotton, to ensure the best possible compatibility with the skin and at the same time, provide maximum protection. Using a multitude of analyses as our basis, in the manufacture of our products, we go beyond the norm in terms of level of protection, and subsequently produce the safest and most comfortable fabric solutions using unique production processes. Garment specialists and occupational safety experts assist us in bringing our innovations to successful use in the areas of flame-retardant fabrics, protective fabrics and workwear.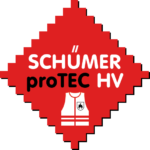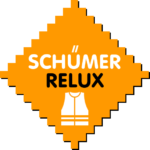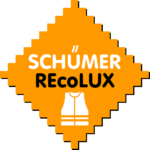 SCHÜMER REcoLUX
RE – recycled PES (GRS)
Eco – ecological Cotton (OCS)
LUX – High Visibiliy (DIN EN ISO 20471)
Customer focus for more innovation
In order to constantly improve our products and translate new trends and market requirements into concrete development outcomes, we use the inspiration obtained from the wishes and ideas of our customers and partners. We take care to ensure that an open dialogue is maintained that is of great benefit to all parties.
Safety through development
We develop specific profiles for protective workwear with end users and garment manufacturers. The result is functioning personal protective equipment (PPE) adapted to individual risk templates. Employee protection always comes first.
A balance of safety & comfort
Our success confirms that high safety standards and comfort need not be mutually exclusive with protective clothing . We rely on the natural fibres of cotton and are subsequently able to achieve a comfortable fit without sacrificing safety.